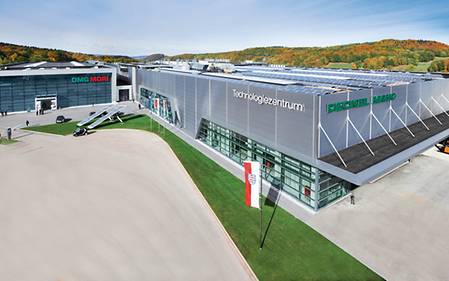 We cordially invite you to visit our Open House in Seebach, which will take place from 7th to 10th of November, 2017.
Prepare yourself for the latest highlights and innovations of this year's EMO show in Hannover, including the world premiere DMU 200 Gantry as well as 23 additional high tech machines live in action.
The focus topics of the Open House are: Technology Excellences in Medical and Die & Mold, as well as Digital Factory, Automation and ADDITIVE MANUFACTURING.
A special highlight of the show is the DMG MORI Medical Excellence Center. In consideration of the perfect orientation on the customer benefits, the Excellence Center is concentrating all the competences of DMG MORI within the field of medical engineering.
The digital change is also taking place in the machine tool industry with increasing momentum. Since 2013, CELOS has already been playing a key role in the DMG MORI Group's digitization roadmap.
Experience DMG MORI's way of planning and realizing Digital Factory, Lean Production, managing of real-time data and Cloud solutions.
Visit our technology seminars in which we will show you the consistent strategy of your own individual "Digital Factory".
HIGHLIGHTS
Technology Excellence: Medical
Technology Excellence: Die & Mold
Digital Factory
Automation
ADDITIVE MANUFACTURING